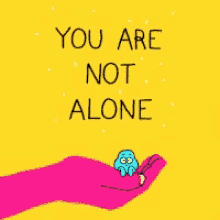 I've decided to share something different with you all today.
There are unexpected days where I feel like writing poems that describe the way I feel. They aren't the best, but they help me vent out my feelings so I can go by the day positively. Here's a short one that I wrote the other day. Hope you like it! 🙂
Know that you're not alone
It may seem like it,
but you are not alone.
They may not see through your smile.
They may disregard you at times.
They may not see your true worth.
They might not even listen.
However, there is a person out there,
drowned in the same feelings as you,
looking for their kindred spirit.
In short, this poem describes how people often consider themselves to be unimportant to others. This thought might be triggered due to a certain event that took place or it may just be the way they feel about themselves in general. I think it's important for an individual to understand that there is always a person out there who cares about you more than you can ever imagine be it a family member, friend, or partner.
What are your thoughts on this poem? Let me know in the comments section below. 😀